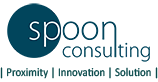 Dec 14, 2019
Spoon Consulting (Mauritius) provides IT consulting services to customers in Europe and Mauritius.
We provided them ISO 27001-2013 consulting that helped them achieve successful ISO 27001-2013 certification.
Our consulting has the following phases:
Understanding the business and security policy objectives
Gap Analysis against applicable ISO 27001-2013 requirements
4-dimensional risk assessment
30+ policies and procedures
Training
Measurement
Internal Audit
Risk Communication and Risk Management
In the above process Spoon was certified with no non-conformity, a testimony of consulting adequacy and implementation effort by Spoon.